※下記の「お問い合わせフォーム」、「メール」または「お電話」にて御連絡ください。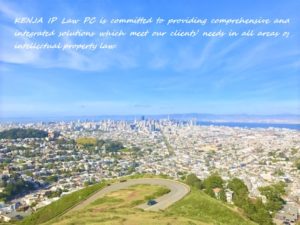 【事務所の所在地】
シリコンバレーオフィス(メインオフィス)
4 North Second Street, Suite 598, San Jose, CA 95113, U.S.A.
ロサンゼルスオフィス
222 West 6th Street, Suite 400, San Pedro, CA 90731, U.S.A.
【電話/FAX番号/メール】
Tel: 650-561-4758 Ext. 101 (日本語直通ライン) ※(米国太平洋時間)午前9時~午後5時
Fax: 650-847-1251
Email: [email protected]
【お問い合わせフォーム】
○DISCLAIMER
This website provides general information about intellectual property and the law and services provided by KENJA IP Law PC. The materials on our website are for informational purposes only and do not convey legal advice. To resolve your specific legal problems, you must consult an attorney. The review and use of materials on this site or contact with the firm on an unsolicited basis does not constitute an attorney-client relationship. For convenience, we have provided links to websites maintained by third-parties. KENJA does not necessarily endorse, sponsor, or approve any third-party content that may be accessible through these links and is not responsible for its content. Our firm makes no representations or warranties of any kind concerning the information presented on or through our web site.